Six Moon Designs Serenity Net Tent
Sometimes the best solution is the simplest. The Serenity NetTent provides a simple solution to keeping those crawling bugs and pesky mosquitoes at bay, and weighs only 11 ounces.
On nice nights you can use it as a stand alone shelter from bugs. The Serenity is also the perfect mate for the Gatewood Cape. Together they weigh a measly 22 ounces, giving you the world's lightest double-wall tent. The Quick Connect feature makes use with the Gatewood Cape a snap.
Its small floor size lets it be setup in most any place. Unlike bivies with the mesh draped directly on your face, the Serenity's 42 inch height lets you sit up in comfort. You can sleep comfortably knowing that some mosquito won't be biting you through the mesh.
The Serenity NetTent has a large oversized door to make side entry and exiting easy. There is no need to shimmy out of a long tube. Nor do you need to detach it from the cape when exiting. The ends of the Serenity are lifted several inches. This effectively lengthens the floor and raises the netting off your face.
Use one of your trekking poles or the optional 1.8 ounce carbon fiber pole.

• One-person Protection
• Weight: 11 ounces
• Full Zippered Entrance
• Bathtub Floor
• Standalone Setup for clear nights when you simply need some bug protection
• Ultralight No-See-Um Netting for a lighter weight
• Extremely Easy Setup
• Packed size 10" x 5"
• Requires 6 Stakes, Not Included
• Color: Black
• Floor: 30D Silicone Nylon
• Netting: 20D No-See-Um
• Zipper: #3 YKK
See a helpful video about the Six Moon Designs Serenity Net Tent: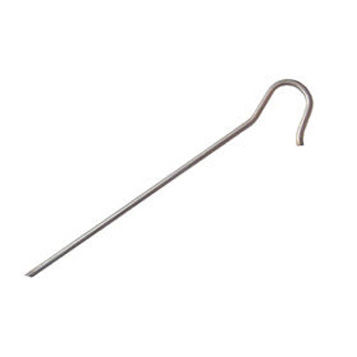 Light, Strong, Compact Titanium Tent Stakes
Lighten up any tent with these 6" stakes that are just 1/5 oz. each!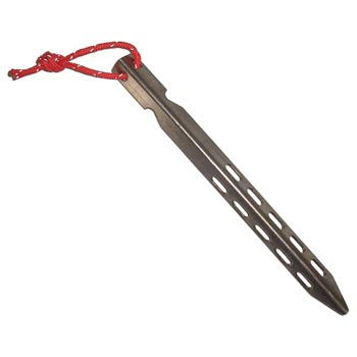 Vargo Titanium 6.25 Inch Tent Stakes
If you need a little more holding power, these rugged titanium stakes are just .35 oz. each. These multi-season stakes have excellent holding power in both soil and snow. Remarkably strong for the light weight.