Six Moon Designs Lunar Solo Tent - Only 24 ounces
The Lunar Solo's distinctive low hexagonal shape easily spills the wind no matter the direction. Short, steeply sloped sides handle snow or high winds with ease. A generous canopy covers a 26 sq. ft. sleeping area plus 8.5 sq. ft. of vestibule storage. The 48" peak height, set in the middle of the tent maximizes room for sitting and taking care of chores.

The sleeping area is surrounded by a 6-inch deep bathtub floor, topped by 6 inches of mesh. This ensures excellent ventilation while keeping you separated from low canopy walls. You stay drier on those occasions when condensation forms on the canopy.

The vestibule is set on the long side of the tent to maximize views and ventilation when fully open. Close it and you've got phenomenal protection from the worst storms.

A 2012 redesign raised the canopy 3" to 48" and offset the pole. The result was considerably more headroom. Extending the floor to 90" and making end walls vertical enhances sleeping for taller hikers. The slight reduction in floor space is more than compensated for by better weather handling. With more vertical walls, the Lunar Solo easily sheds wind and snow.
Features
• Full Vestibule provides protection while still maintaining good ventilation when closed. Fully open, the vestibule maximizes ventilation and view.
• High Vent removes excess moisture build up.
• Zipper Vestibule Closure makes opening and closing the vestibule a snap.
• Single Piece Bathtub Floor makes a more watertight floor.
• Easy Tensioning Adjustment makes keeping your the tent taut an easy task that can be accomplished while still in your sleeping bag. Re-tension straps have been added to all tie out points.
• Floating Canopy allows the canopy to be set to different heights.
• Floating Floor reduces floor stress and helps to minimize punctures from sharp objects.
• Optimized Sleeping Area is oriented to maximize usable space, ventilation and view. A peak height of 48 inches gives you plenty of head room.
• Center Pole Support significantly improves the ability of the tent to handle wind and snow loads.
• Single Hiking Pole Support reduces your gear volume.
• Internal Gear Area keeps your gear easily accessible.
• Oversized Screen Door allows easy entrance and exit while keeping the front pole out of your way. You can cook from inside your tent.
• Ultra-light Waterproof Canopy is made from high-strength, 30-denier Silicone Nylon.
• Handy Mesh Cargo Pocket
• Extremely Easy Setup in less than two minutes under any conditions.
Structure:
• Single wall
• For ultralight backpacking
• Convenient side entry
• 49" pole
Specifications

Layout

Seasons: 3
Weight:
• 24 oz. - Without stakes or pole
Capacity:
• 1+
Floor Space:
• Sleeping: 26 sq. ft.
• Vestibule: 8.5 sq. ft.
Packed Size:
• 15" x 4.5", 240 cu. in.
Color:
• Green
Stakes Required:
• 6 (not included)
Ships With:
• Tent, Stuff Sack, Guylines
Materials:
• Canopy: 30D Silicone Nylon
• Mesh: 2OD UL No-See-Um Netting
• Zipper: #3 YKK
See a helpful video about the Six Moon Designs Lunar Solo tent:
Lunar Solo Tent $225 No. 2709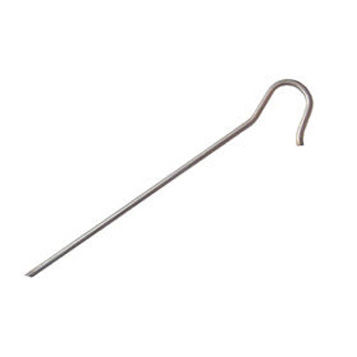 Light, Strong, Compact Titanium Tent Stakes
Lighten up any tent with these 6" stakes that are just 1/5 oz. each!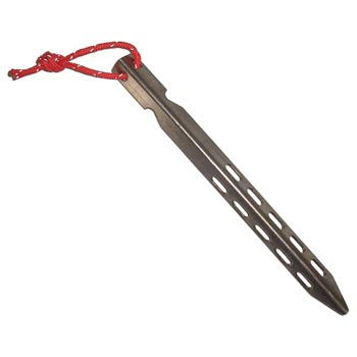 Vargo Titanium 6.25 Inch Tent Stakes
If you need a little more holding power, these rugged titanium stakes are just .35 oz. each. These multi-season stakes have excellent holding power in both soil and snow. Remarkably strong for the light weight.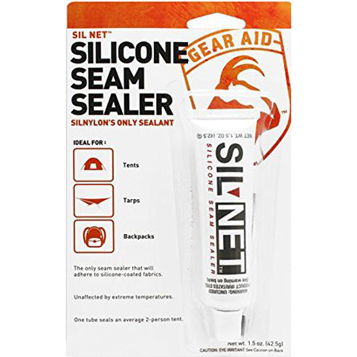 McNett Sil-Net Silicone Seam Sealant
100% Silicone seam sealant formulated for sealing seams on tent or other outdoor products that are coated with silicone-based products. 1.5 oz. tube with brush.