Six Moon Designs Lunar Duo Outfitter - Just 57 ounces
The Lunar Duo Outfitter uses a more common and heavier fabric than the Lunar Duo Explorer. The fabric is polyurethane-coated instead of silicone-coated. This gives you a great value as well as a tough, comfortable shelter.
The Lunar Duo may not be the perfect two person three season tent, but it's pretty darn close. This ultralight shelter offers dual doors and vestibules so each person has their own entry. With a height of 45 inches and a width of 54 inches the Lunar Duo offers the most interior room of any tent in its class and weight range. Two curved spacer poles on either side create an arched roof with excellent room to sit up and change without constantly annoying your partner.
The Lunar Duo's two vestibules can be opened fully to create a lot of cross-ventilation, keeping you cool and those pesky mosquitoes at bay. When closed, you can raise or lower the height of the vestibule to multiple positions to ensure you've got the right mix of protection, ventilation, and view.
The wide canopy allows for vertical mesh sidewalls, eliminating the possibility of rain falling into the tent when you enter or exit. The high and wide canopy gives you plenty of room to move around in without bumping into the walls.
Side entry provides room for oversize doors to ease entry and exit from the tent. It allows for oversize vestibules that provide plenty of extra weatherproof storage. A zipper closure of each vestibule keeps tensioning correct. Once open you can choose to fold back either door depending upon conditions.
Features
• New for 2012 #5 heavy duty zippers
• Fully enclosed with no-see-um netting for total insect protection
• Dual Vestibules
• Dual Entry
• Dual High Vents
• Floating Canopy
• Easy Tensioning Adjustment
• Dual Hiking Pole Support
• Dual Cargo Pockets.
• Bathtub Floor
• Extremely Easy Setup
Specifications

Layout

Weight:
• 57 oz.
Capacity:
• Two People
Floor Space:
• 34 sq. ft. Sleeping
• 24 sq. ft. Vestibules
Packed Size:
• 15" x 6"
Stakes Required:
• 6 (not included)
Color:
• Gray
Ships With:
• Tent, Stuff Sack, Guylines
Materials:
• Canopy: 190T Polyester
• Floor: 190T Polyester
• Mesh: No-See-Um Netting
• Zipper: #5 YKK
• Spacer Poles: Easton 7075 HS
Recommendations:
• Three Season Backpacking
See a helpful video about the Six Moon Designs Lunar Duo Outfitter tent:
Lunar Duo Outfitter Tent $160 No. 2707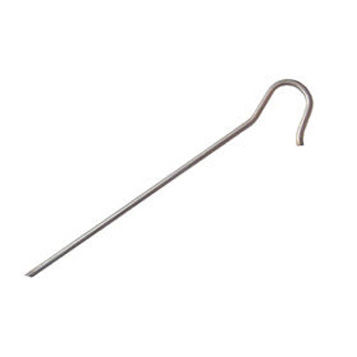 Light, Strong, Compact Titanium Tent Stakes
Lighten up any tent with these 6" stakes that are just 1/5 oz. each!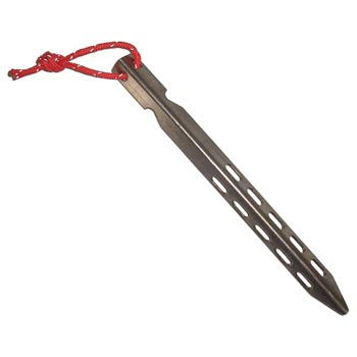 Vargo Titanium 6.25 Inch Tent Stakes
If you need a little more holding power, these rugged titanium stakes are just .35 oz. each. These multi-season stakes have excellent holding power in both soil and snow. Remarkably strong for the light weight.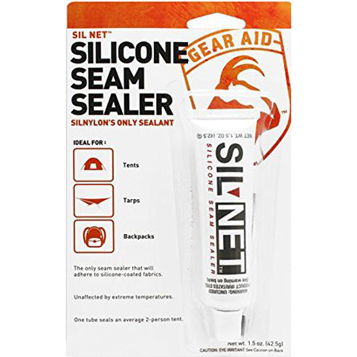 McNett Seam Grip Seam Sealer
Flexible urethane formula seals seams or repairs gear. Seals seams on natural and synthetic fabrics. Waterproof and permanent. Great for equipment repair, too. Incredibly strong. 1 oz. tube with brush applicator.