Six Moon Designs Gatewood Cape/Shelter
The Gatewood Cape is designed to provide full protection either when worn as a cape or used as a shelter. Unlike ponchos, capes don't have long slits along the sides. While the poncho may allow for more ventilation, it does little to keep out wind blown rain. Dual zipper pulls on the front of the Gatewood Cape allow you to regulate ventilation while still providing full protection. Plus, the open skirted design allows fresh air to enter the bottom.
As a shelter, the Gatewood Cape provides significantly enhanced protection than a poncho/tarp. Its design easily sheds rain or snow and wind simply flows around it. Any sudden change in wind direction in the middle of the night won't leave you scrambling to re-orient your shelter or force you deeper into your bivy.
A poncho's flat rectangular shape provides a number of setup configurations, however every configuration leaves one or mores sides exposed to the elements. The Gatewood Cape is a shaped tarp and eliminates all exposed sides, leaving you safe and secure. Plus shaped tarps are much easier to consistently pitch correctly. The center pole with 6 stakes anchors the shelter rock solid to the ground. The taut setup eliminates the noise of sides flapping in the breeze common with poorly pitched tarps.
With 35 square feet of coverage under the shelter's canopy, you've got plenty of room for you and your gear. Depending upon conditions, you can even adjust the vestibule to different heights to increase ventilation . A long zipper on the vestibule makes opening and closing the shelter a snap.
For the adventuresome day hiker, the Gatewood Cape makes the perfect addition to your 10 essentials survival kit. It packs down incredibly small and provides piece of mind knowing you've got excellent protection close at hand.
Features
• New Micro buckles connect harness to cape for easy installation and removal.
• Full 360 Degree protection when set up as a shelter or worn as rain gear.
• Full Zippered Entrance makes entering and exiting the shelter a snap.
• Adjustable Vestibule Height allows you increase ventilation while maintaining adequate rain protection.
• Side Hooks for shortening the long sides when worn as a cape.
• Floating Canopy allows the canopy to be set to different heights depending upon conditions.
• Integrated Map / Night Stash Pocket with zipper closure to keep stuff contained. Pocket also doubles as the stuff sack.
• Center Pole Support significantly improves the ability of the shelter to handle wind and snow loads.
• Ultra-light Waterproof Canopy is made from high strength 30 denier Silicone Nylon.
• Extremely Easy Setup requires only six stakes.

Specifications

Layout

Weight:
• 11 oz. (everything but stakes and pole)
Capacity:
• One
Coverage:
• 35 sq. ft.
Packed Size:
• 8" X 10" X 1.5", 120 cu. in.
Colors:
• Gray, Dark Green
Stakes Required:
• 6 (not included)
Ships With:
• Cape, Integrated Stuff Sack, Guylines
Materials:
• Canopy: 30D Silicone Nylon
• Zipper: #3 YKK
Suggested Use:
• Ultralight Backpacking
• Day Hiking emergency bivouac
See a helpful video about the Six Moon Designs Gatewood Cape: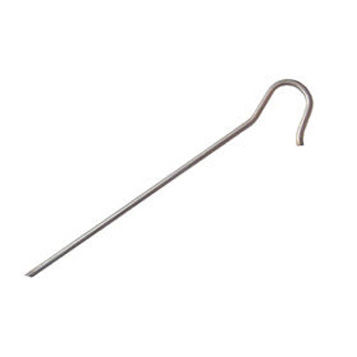 Light, Strong, Compact Titanium Tent Stakes
Lighten up any tent with these 6" stakes that are just 1/5 oz. each!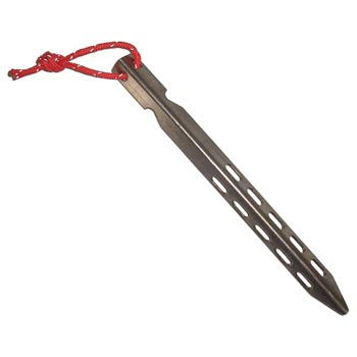 Vargo Titanium 6.25 Inch Tent Stakes
If you need a little more holding power, these rugged titanium stakes are just .35 oz. each. These multi-season stakes have excellent holding power in both soil and snow. Remarkably strong for the light weight.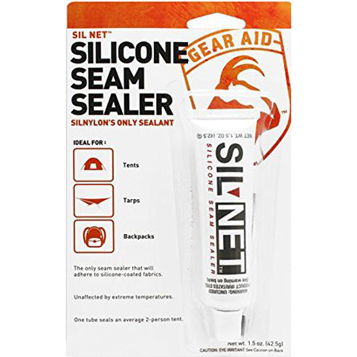 McNett Sil-Net Silicone Seam Sealant
100% Silicone seam sealant formulated for sealing seams on tent or other outdoor products that are coated with silicone-based products. 1.5 oz. tube with brush.