Six Moon Designs 2-Person Haven Tarp
The Haven Tarp is a shaped tarp that is designed to provide the maximum amount of protection for a minimum weight. It's only 18 ounces. The dual pole design with a 48" (122 cm) wide canopy provides a tremendous amount of headroom. The wide canopy creates nearly vertical sidewalls. This translates into more usable space with the tarp and less chance of brushing up against the side walls.
The center peak of the Haven is offset slightly toward the front of the tent. This raises the canopy off your face and puts the peak in a more natural position when sitting.
You can quickly set up the Haven Tarp using your hiking poles or the optional carbon fiber poles. Dual tabs on either side of the canopy allow the Haven Tarp to be hung from a line between two trees, eliminating the need for poles.
The Haven Tarp is designed to be mated with the Haven NetTent. Together they form a luxurious sized double-wall shelter at a mere 32 ounces.
Most of the tarp / NetTent combos on the market today require the NetTent to be set up first, followed by the tarp. Typically the poles are inside of the NetTent, making them easy to bump into in the middle of the night. This kind of setup makes it impossible to keep your NetTent dry when setting up or taking down your shelter in the rain.
The Haven Tarp / NetTent combo is designed so that the NetTent hangs from the tarp. This configuration allows the tarp to be set up first or taken down last in rainy conditions. Your NetTent will remain dry and safely secure in your pack.
• Full 360 degree protection allows this tarp to provide enhanced security compared to traditional flat tarp
• High Vent removes excess moisture build up
• Zipper Vestibule Closure makes opening and closing the vestibule a snap
• Dual Side Entry makes entry and exit easy
• Easy Tensioning Adjustment makes keeping your the tent taut an easy task that can be accomplished while still in your sleeping bag. Re-tension straps have been added to all tie out points
• Floating Canopy allows the canopy to be set to different heights
• Optimized Sleeping Area is oriented to maximize usable space, ventilation and view
• A peak height of 45 inches gives you plenty of head room
• Dual Pole Support significantly improves headroom and interior space
• Ultralight Waterproof Canopy is made from high-strength 30 denier silicone nylon
• Extremely Easy Setup in less than two minutes under any conditions
• Packed size 12" x 4 1/2"
• Requires 6 Stakes, Not Included
• Color: Gray
• Canopy: 30D Silicone Nylon
• Zipper: #3 YKK

See a helpful video about the Six Moon Designs Haven Tarp: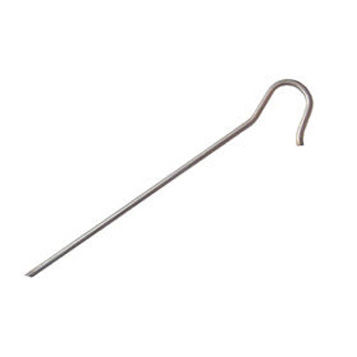 Light, Strong, Compact Titanium Tent Stakes
Lighten up any tent with these 6" stakes that are just 1/5 oz. each!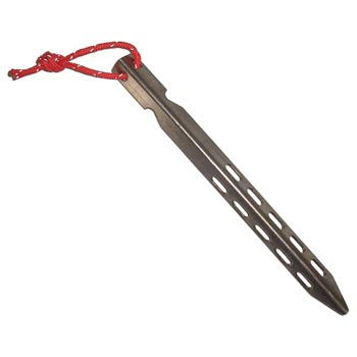 Vargo Titanium 6.25 Inch Tent Stakes
If you need a little more holding power, these rugged titanium stakes are just .35 oz. each. These multi-season stakes have excellent holding power in both soil and snow. Remarkably strong for the light weight.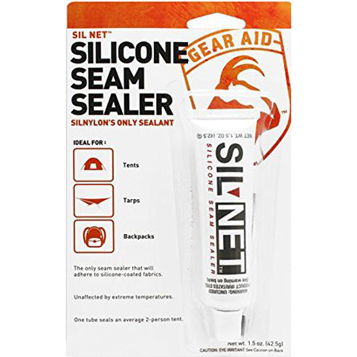 McNett Sil-Net Silicone Seam Sealant
100% Silicone seam sealant formulated for sealing seams on tent or other outdoor products that are coated with silicone-based products. 1.5 oz. tube with brush.