Six Moon Designs 2-Person Haven Net Tent
The Haven NetTent gives you great stand alone 14-ounce protection from insects. It's also the perfect companion for the Haven Tarp forming a 32-ounce shelter.
The Haven is specifically designed for hikers looking for an ultralight double-wall shelter option. With an overall length of 90" (229 cm), the Haven NetTent will accommodate the tallest hikers.
The peak of the tent has been shifted forward towards the head of the tent. This means when you sit up, you're correctly positioned at the peak of the tent. In a reclined position the netting is kept well off your face. The 44" (112 cm) width of the peak allows two people to easily sit up and do chores in comfort.
Dual doors allow each person to have their own exit. There is no crawling over your partner in the dark of night.
Unlike most net tents that slope directly from the peak to the floor, the Haven NetTent has vertical walls at either end which raises the netting off your face and feet. This gives you a smaller footprint and more usable interior space.
The Haven NetTent easily clips into the Haven Tarp after the tarp has been set up. Setting up the tent in the rain is a simple matter of setting up the tarp, crawling in, then unfolding and hanging the Haven NetTent. This keeps the Haven NetTent dry. When taking down the tent in the rain, simply reverse the process. You can store the Haven NetTent in your pack to keep it dry and place the Haven Tarp in an outside pocket of your pack.
• Dual Side Entry makes getting in and out simple and easy
• Wide Canopy provides lots of headroom when sitting up doing chores
• Long Floor provides ample room for the tallest hiker
• Bathtub Floor
• Easy Setup allows the Haven NetTent to be used by itself or with the Haven Tarp
• Weight: 14 ounces
• Requires 6 stakes, not included
• Pack size: 12" x 4 ½ "
• Color: Black
• Canopy: 30D silicone nylon
• Netting: 20D Ultralight polyester no-see-um
• Zipper #3 YKK

See a helpful video about the Six Moon Designs Haven Net Tent: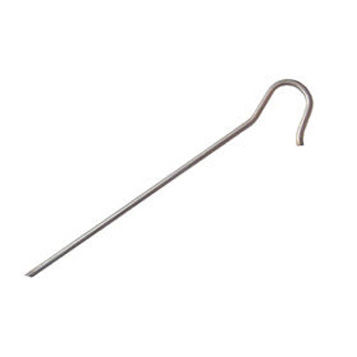 Light, Strong, Compact Titanium Tent Stakes
Lighten up any tent with these 6" stakes that are just 1/5 oz. each!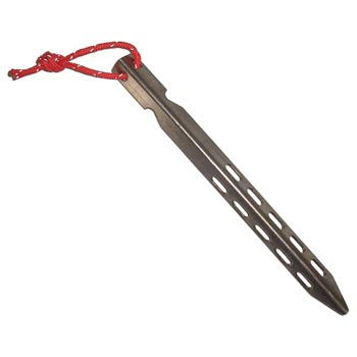 Vargo Titanium 6.25 Inch Tent Stakes
If you need a little more holding power, these rugged titanium stakes are just .35 oz. each. These multi-season stakes have excellent holding power in both soil and snow. Remarkably strong for the light weight.