Big Agnes footprints and gear lofts half off - from 2014
Fly Creek UL4 Footprint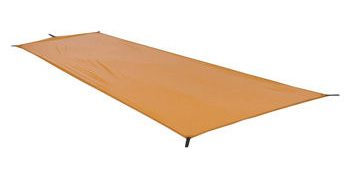 To extend the life of your tent floor, we recommend using a Big Agnes footprint or ground cloth. The Big Agnes footprint also enables you to pitch a lightweight, Fast Fly shelter while leaving the tent body behind. The Fast Fly configuration requires the footprint, tent fly, poles and stakes.
Fly Creek UL4 Footprint 8.5 oz $37.50 No. 2924FC
Save Over Half The Price On This Ultralight Pack! The Speedsac Is Regularly $129, Now $59.95. Just Over 1 Pound And Loaded With Features!
* Currently available only in Black/blue.
With this closeout you can have a high-quality pack at a very low price. The design and features make it a good value at the regular price of $129 and a bargain at $59.95. The pack was built for adventure racing and also works great as a daypack, ascent pack, and ultralight pack. It has 1850 cubic inches in the main pack and up to 2550 cubic inches total using the storage sack and two removable hip belt pockets. The pack weighs 14.7 ounces without the stuff sack, front hip belt pockets, and insulated water bottle holders. The front storage pockets weigh .75 ounces each. The insulated bottle holders weigh 1 ounce each. The storage/stuff sack is .8 ounces. That's 19 ounces "fully loaded."
The Speedsac made of strong, high-quality Spectra fabric. The evazote padded hip belt and shoulder straps give you a cushioned fit. The super-wide hip belt snugs to your body for a firm, comfortable ride. The sternum strap can be adjusted for a perfect fit. Two compression straps keep the pack close to you for great balance. Pack adjustments include waist, shoulder, and above the shoulder. Light foam against your back is great for padding and keeping you cool. The Speedsac fits hikers who are from 5'3" to 6'3".

The two padded, front hip belt pouches give you quick, convenient access to items like your map, snacks, camera, and GPS without slowing down. The removable 500-cubic inch storage sack attaches to the bottom of the pack and can be used for your sleeping bag or other items. A waterproof zipper on the main compartment and waterproof fabric keep your gear dry.

The Speedsac has been used extensively on the John Muir Trail and other trails for hiking and adventure racing for over 10 years.
Colors: Black/blue
$59.95 No. 1601